LiveAgent uses Microsoft OAuth authentication to connect with your Outlook/Office 365 accounts. After you authenticate this connection in a pop-up window, your Outlook/Office 365 mailbox is connected, and no further configuration is needed. Just follow these simple steps:
Note that the Microsoft connector fetches emails periodically with cron jobs, so there might a potential slight delay in seeing the email in your email inbox and in your LiveAgent account.
In your LiveAgent account, navigate to Configuration > Email > Incoming Mail accounts, and click on the "Integrate new email account" button.

In the left "Mailbox account" section, use the predefined Microsoft connector to connect your Outlook/Office 365 account.


On the next screen, click on the "Connect" button. It will automatically open a pop-up window with a Microsoft login page, where you need to authorize yourself/log in to the Microsoft account that you want to connect as an outgoing email account. After successful authentication and login, the pop-up window will be automatically closed.


If you'll get a message
"Need admin approval"
, you are not allowed to integrate this email account and would need to
contact
the administrator of your company's mail accounts to resolve it.
After the pop-up window is automatically closed, go back to your LiveAgent account and in the Ownership configuration screen, leave the option "My own mailbox" chosen and click on "Next".
To connect an Office 365 shared mailbox, please follow
this guide
instead.

On the next configuration screen, name your incoming email account, naming it serves just for better recognition among the other email accounts. Next, decide whether you want to:
"Skip all existing emails in the mailbox" and fetch into LiveAgent only new emails that will arrive after the incoming email account will be successfully connected,
or "Fetch all existing emails in the mailbox" into LiveAgent that were already delivered to your mailbox.
Furthermore, decide whether you want to "Leave the email in the mailbox" or "Delete the email from the mailbox" after it will be successfully fetched into LiveAgent. If you'll leave all emails in the mailbox they will be marked as read in your email account's mailbox. If you'll choose to delete the emails from the mailbox, once the email will be fetched it will be erased from your email account's mailbox and therefore available only in LiveAgent after.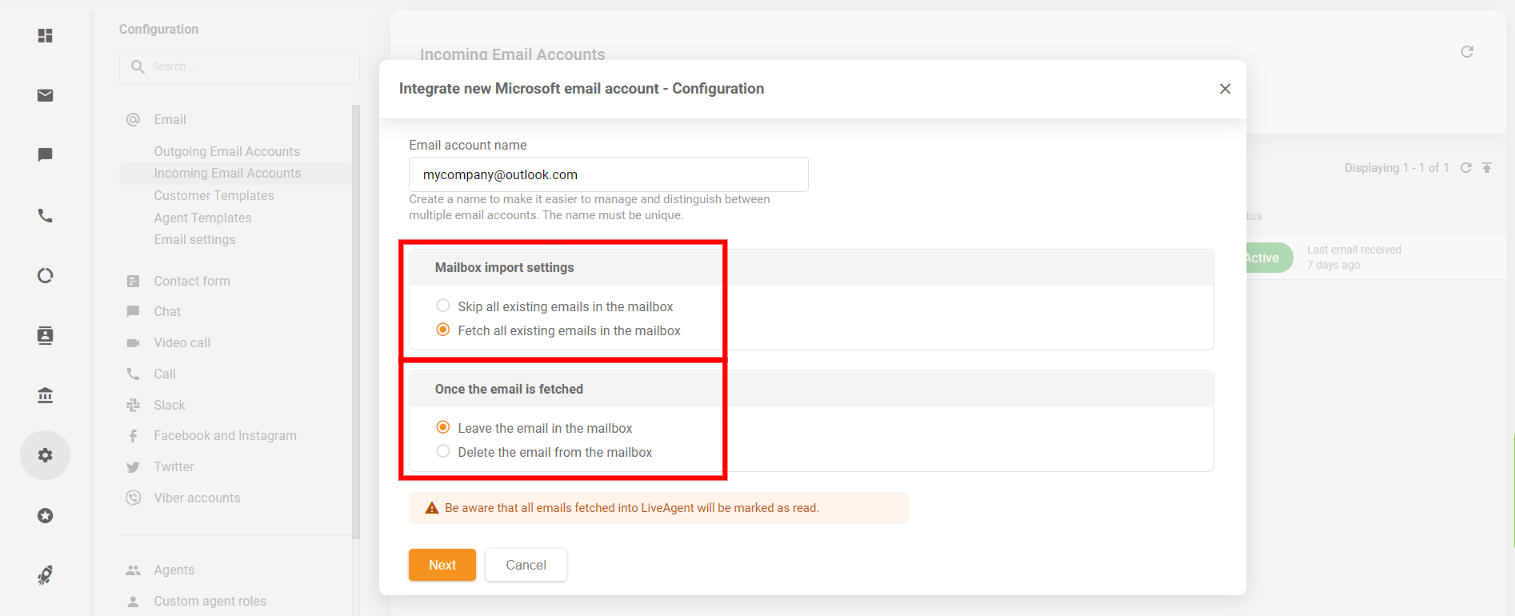 On the last Ticket configuration screen, choose in which department emails fetched from your Outlook/Office 365 mailbox should be created as tickets, and the outgoing email account that will be set up as the default sender for replying emails/tickets fetched to this incoming email account.


That's it, your Outlook/Office 365 account will be successfully connected, and you can start fetching emails from this Outlook/Office 365 account directly to your LiveAgent account.