Mail forwarding is possible only with LiveAgent cloud-hosted accounts. If you have a standalone LiveAgent installation on your own server, the forwarding option is replaced by email piping.
If you are not able to connect your email account via the Google/Microsoft connectors and neither via the IMAP/POP 3 method or you want the emails appear in LiveAgent faster, it is possible to simply set up a forwarding feature on your email account to forward emails from your email account mailbox to your LiveAgent account. Compared to Google/Microsoft connectors or IMAP/POP3 methods, which fetch emails every few minutes by cron jobs, forwarded emails are fetched instantly as they arrive to your email account inbox.
In your LiveAgent account, navigate to Configuration > Email > Incoming Mail accounts, and click on the "Integrate new email account" button.
In the right "Forwarding" section, click on the "Integrate" button to set up a forwarding email account.


On the next screen, insert the email addresses from which you want to forward emails to your built-in email account, you can insert multiple addresses on which the forwarding will be set up. Name the email account to easily distinguish it from other email accounts, and copy the Forwarding email address. This address needs to be inserted in the forwarding feature in your email account settings.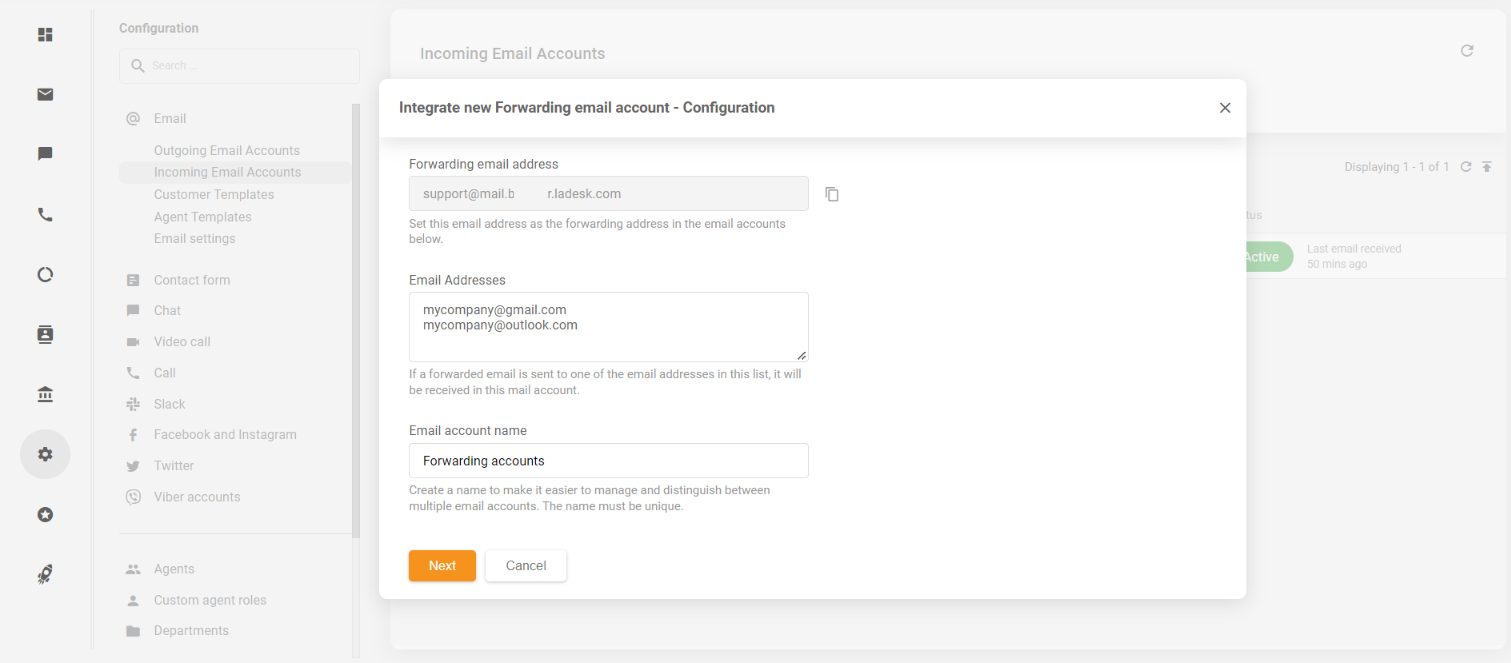 On the last Ticket configuration screen, choose in which department emails forwarded from your email account should be created as tickets, and the outgoing email account that will be set up as the default sender for replying emails/tickets fetched to this incoming email account.

That's it, your Forwarding email account will be successfully set up, and you can start receiving emails from your email account mailbox in your LiveAgent account.