Before you can submit a Facebook application for review, you must create the Facebook application and connect LiveAgent with Facebook. The process is described in this guide.
Quick navigation
LiveAgent needs special permissions with advanced access to fetch and create wall posts and to fetch and reply to private messages and comments. Only standard access to these permissions is given to every application by default, therefore you will need to request advanced access and submit your application for approval by the Facebook team first.
If you are an administrator of the Facebook App standard access to the following permissions is enough. This guide applies only if you need to allow other LiveAgent administrators who are not also set as administrators of your Facebook app connecting your Facebook app.
Request advanced access
In your Facebook developer panel navigate to the "App Review > Permissions and Features", search for and request advanced access for the following 8 necessary permissions required by LiveAgent:
Business Asset User Profile Access
pages_manage_engagement
pages_manage_metadata
pages_manage_posts
pages_messaging
pages_read_engagement
pages_read_user_content
pages_show_list
There are also 3 additional permissions that are not mandatory, but are related and might be helpful:
Human Agent (provides the ability to reply to Facebook messages from LiveAgent within 7 days, the standard limit is 24 hours)
instagram_basic (allows your app to read an Instagram account profile's info and media)
instagram_manage_comments (provides the ability to fetch and reply to comments and mentions from your Instagram account connected to your Facebook account)
Note that all these advanced access permissions might require a Business Verification, without verifying your business your application review will be most likely declined. Individual verification might not be enough.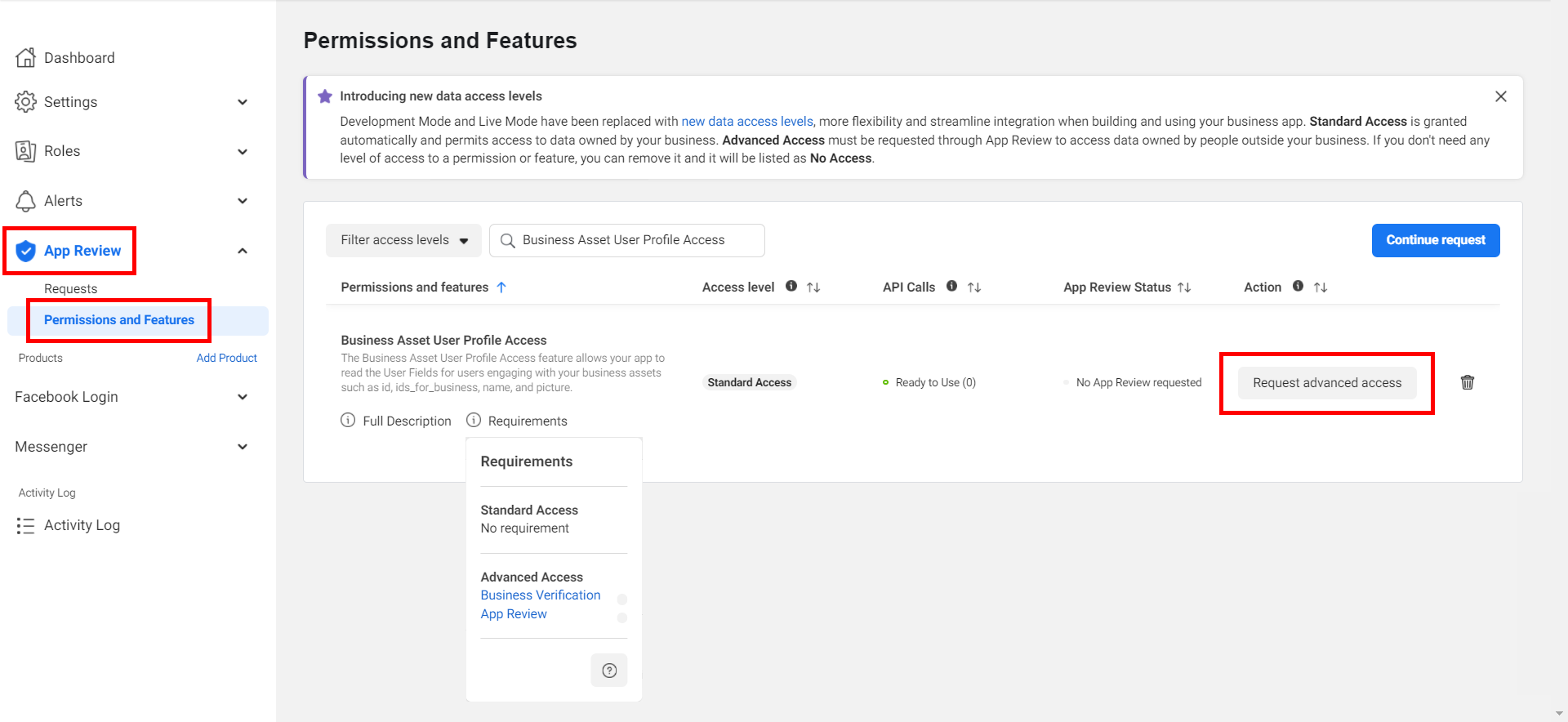 Send a request for review
After requesting advanced access for all needed permissions, navigate to the "App Review > Requests" section in the menu, and edit your pending request​​​​​.

You must complete all steps and fill in the details for each of the requested permissions before you can submit them for review. Once all the checkmarks representing the review requirements are blue, the button "Submit for Review" at the bottom of the page will become active and you will be able to submit the app for review.
We've prepared for you example instructions for every app review section, you can find them all below later in this guide.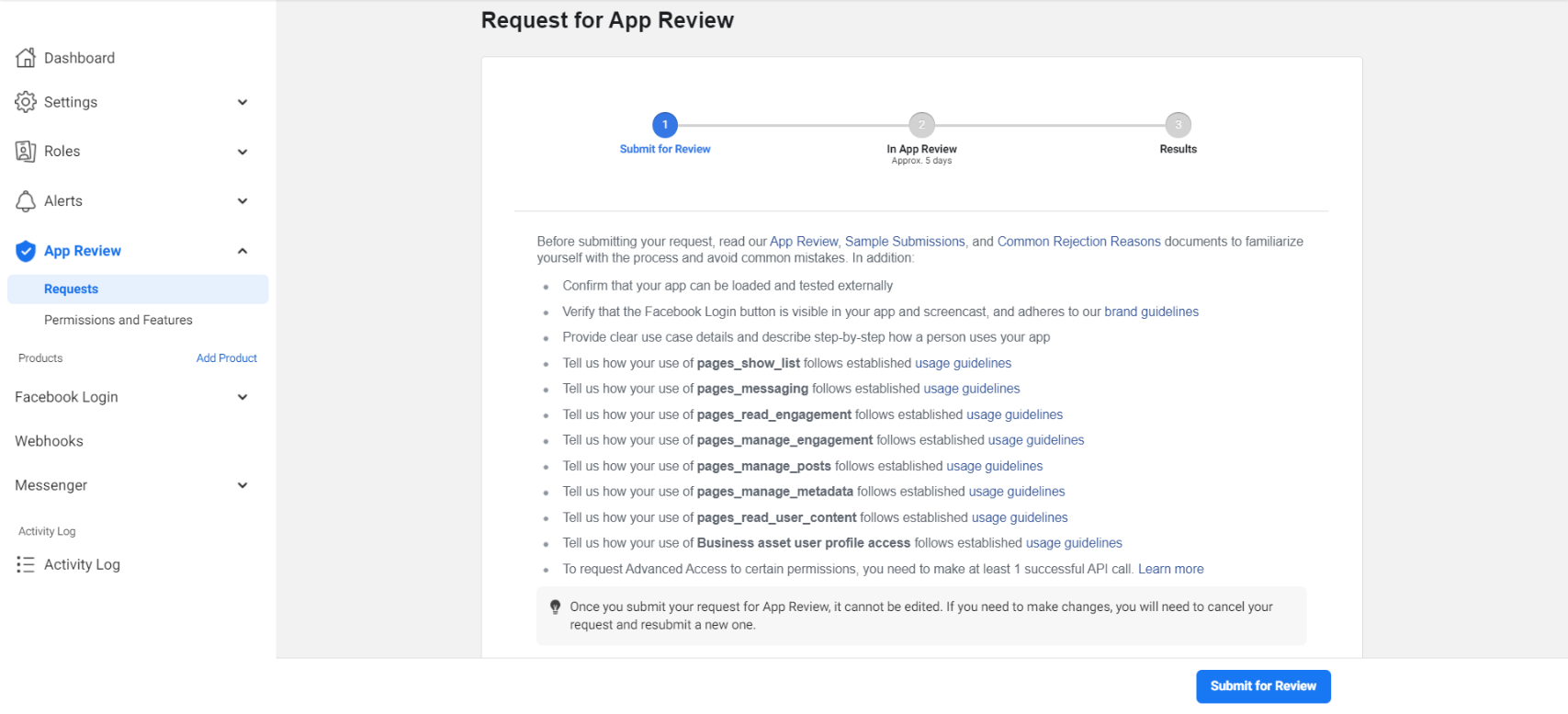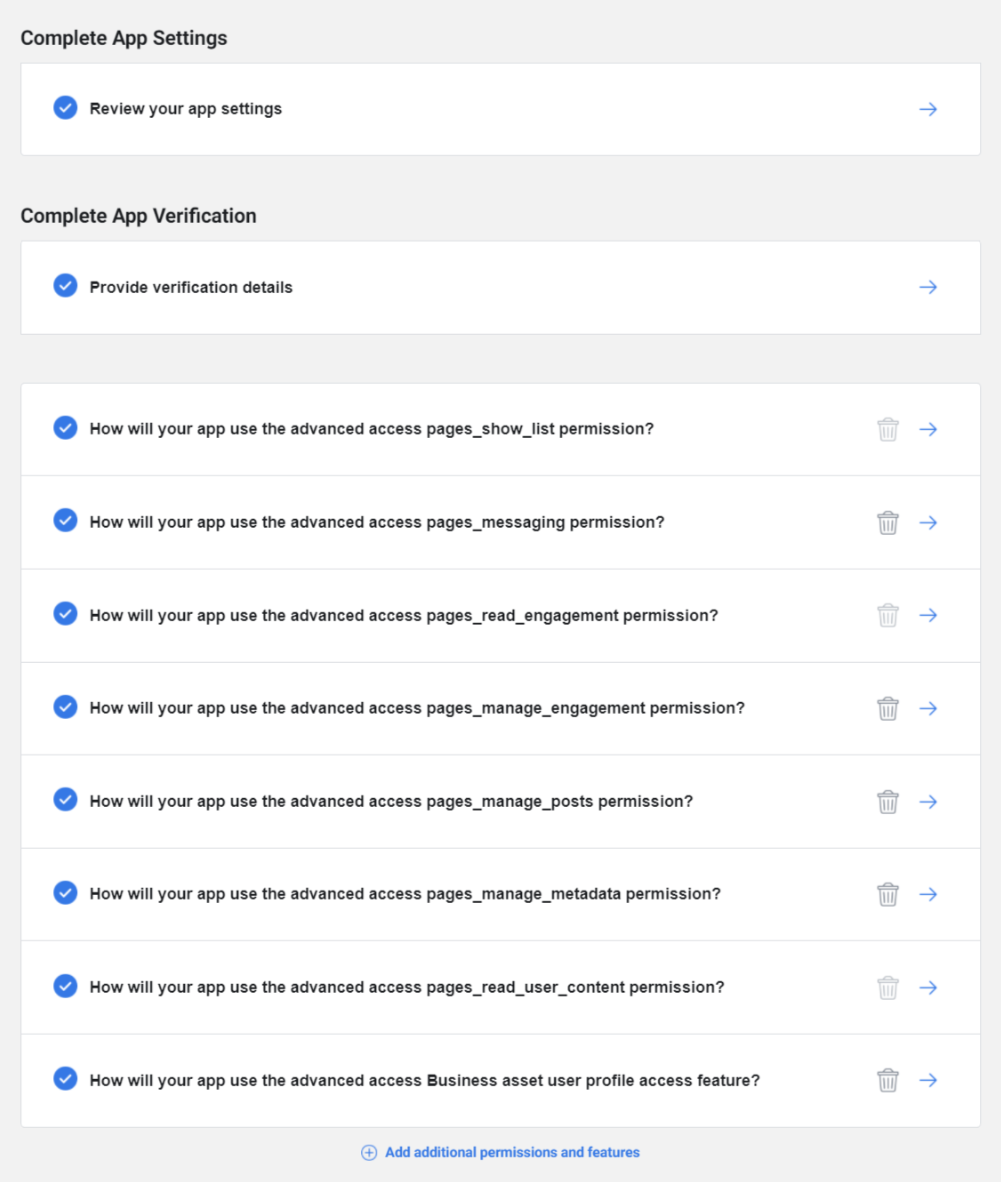 Example instructions for every app review section
Don't forget to replace dummy credentials "- url: https://support.mycompany.com/agent - username: support@mycompany.com - password: LiveAgent007" with your real self-hosted LiveAgent admin/owner account credentials at the end of examples.
Non-mandatory permissions
That's it. Now just wait until Facebook approves your application and you will be able to fetch Facebook wall posts, messages, and comments as tickets and answer them directly from each ticket. It can take several days to get a response from Facebook. You can check your pending request in the Facebook developer panel in the "App Review > Requests" section.
The attached videos are also available on YouTube at these links:
The last one is also a preview of how you will be able to respond to messages, comments, and posts on your connected Facebook page.
Unfortunately, the Facebook review team stopped accepting our generic videos, and you are required to record your own screencast video and submit it with your application review. Facebook published a guide for recording the screencast, so for a successful app review, it is advisable to follow their recommendations.
If you are struggling to pass the review, we recommend you to look into the option of migrating your LiveAgent installation to our cloud and leaving the hassle of Facebook application review to us. Don't hesitate to contact our sales team by email or online chat for a customized offer.