Badges
create a fun and engaging workplace. With badges, the productivity in the office naturally increases. People love collecting and holding onto rewarding bagdes and try to shake of the negative ones as soon as possible.
Rewards & Badges Video Setup
If you prefer video instructions over text, watch the video below:
Rewards & Badges Setup
Step 1: Navigate to Configuration>System>Gamification
Step 2:
Click on Badges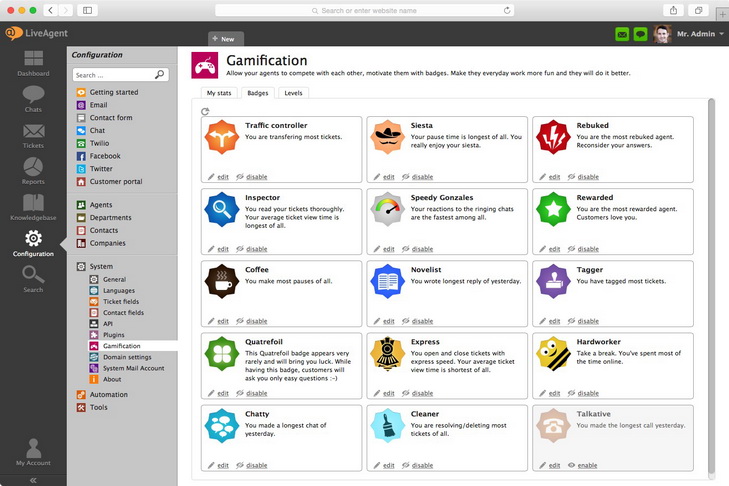 Step 3:
All Badges are in an active mode by default. You can disable Badges (click on Disable) you don't want or edit their images, names and descriptions by clicking on Edit.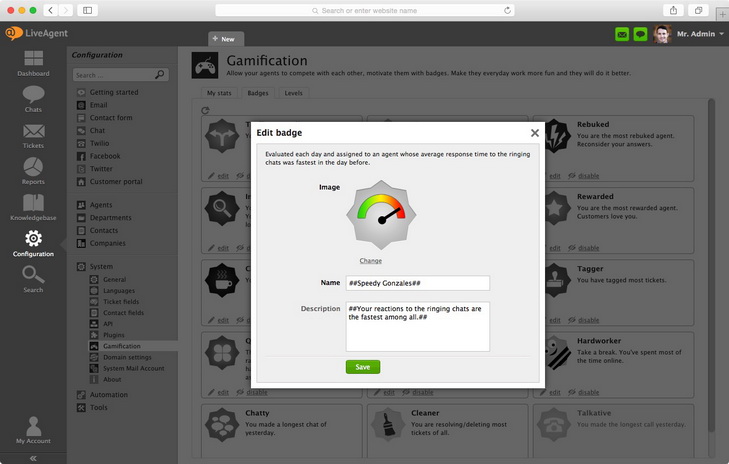 Example:
LiveAgent will assign the "Speedy Gonzales" badge to a support rep, who has the shortest response time.
Types of default Badges (you can customize each Badge):
Traffic controller - You are transfering most tickets. (Evaluated each day and assigned to an agent that transfered most tickets in last 7 days.)
Siesta - Your pause time is longest of all. You really enjoy your siesta.(Evaluated each day and assigned to an agent that spent most time paused in last 7 days.)
Punished - You are the most punished agent. Reconsider your answers. (Evaluated each day and assigned to an agent that received most rebukes in last 7 days.)
Inspector - You read your tickets thoroughly. Your average ticket view time is longest of all. (Evaluated each day and assigned to an agent whose average time of having ticket opened was greatest in the day before.)
Speedy Gonzales - Your reactions to the ringing chats are the fastest among all. (Evaluated each day and assigned to an agent whose average response time to the ringing chats was fastest in the day before.)
Rewarded - You are the most rewarded agent. Customers love you. (Evaluated each day and assigned to an agent that received most rewards in last 7 days.)
Coffee-You make most pauses of all. (Evaluated each day and assigned to an agent that was paused most times in last 7 days.)
Novelist - You wrote longest reply of yesterday. (Evaluated each day and assigned to an agent that wrote longest reply the day before.)
Tagger - You have tagged most tickets. (Evaluated each day and assigned to an agent that tagged most tickets in last 7 days.)
Quaterfoil - This Quaterfoil badge appears very rarely and will bring you luck. While having this badge, customers will ask you only easy questions :-) (Evaluated randomly and assigned randomly to one of online agents.)
Express - You open and close tickets with express speed. Your average ticket view time is shortest of all. (Evaluated each day and assigned to an agent whose average time of having ticket opened was shortest in the day before.)
Hardworker - Take a break. You've spent most of the time online. (Evaluated each day and assigned to an agent that was online most of the time in last 7 days.)
Chatty - You made a longest chat of yesterday. (Evaluated each day and assigned to an agent that made chat with most messages in the day before.)
Cleaner - You are resolving/deleting most tickets of all. (Evaluated each day and assigned to an agent that resolved or closed most tickets in last 7 days.)
Talkative - You made the longest call yesterday. (Evaluated each day and assigned to an agent that made longest call day before.)