Save the time of your support agents and fight against spam with automatic spam filtering in your helpdesk. LiveAgent implements the SpamAssassin (https://spamassassin.apache.org) anti-spam platform, which blocks spam.
It uses a robust scoring framework and plug-ins to integrate a wide range of advanced heuristic and statistical analysis tests on email headers and body text including text analysis, Bayesian filtering, DNS blocklists, and collaborative filtering databases.
SpamAssassin Setup
Step 1: To activate SpamAssassin plugin navigate to Configuration>Plugins>SpamAssassin integration
Before you activate this plugin, please make sure, that SpamAssassin is installed on your server. Emails marked as spam can be still found in the tickets marked as spam.
Step 2: Firstly Buy this feature for $99

then click on Activate button and LiveAgent will automatically restart

Step 3: Click on Configure button and enter IP or hostname of your SpamAssassin server and port number of SpamAssassin service

Additionally you can check "Teach" You can teach SpamAssassin, when mail was manually marked as spam to improve quality of spam recognition. Warning: Must be enabled on SpamAssassin server.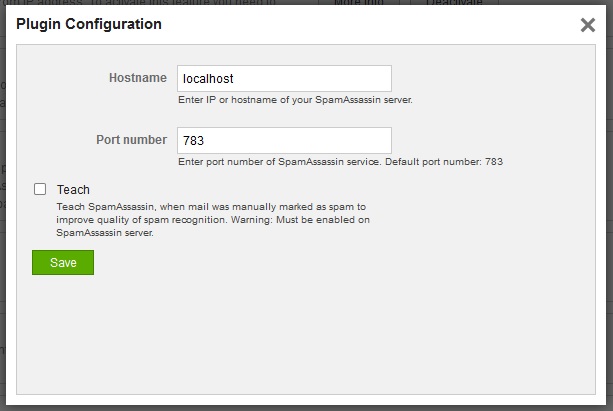 Step 4: Navigate to Configuration>Email>Mail accounts choose your email address already connected to LiveAgent and click on Edit
Step 5: Check "Process with SpamAssassin"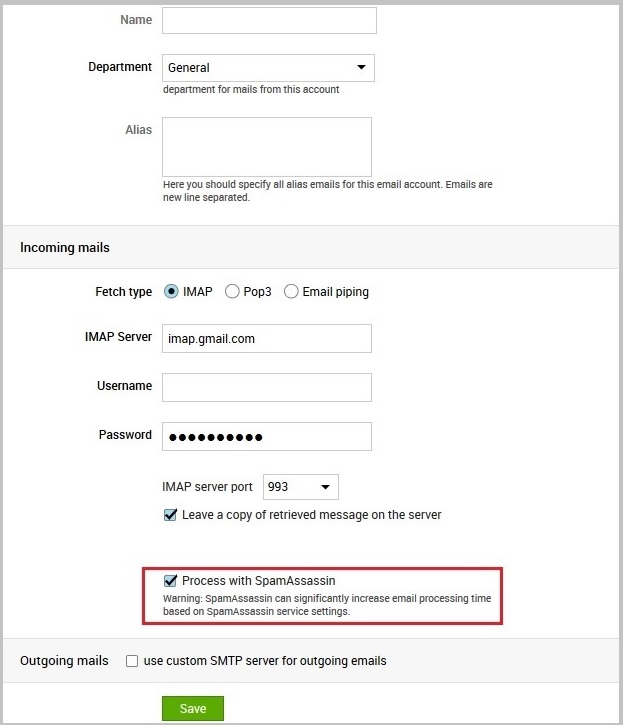 Note: If email has already been processed by SpamAssassin on mail server and contains header X-Spam-Status, the email source will not be sent to SpamAssassin again.