There is always room for improvement and receiving feedback from your customers can help you identify different areas to improve. Encourage your clients to send you new ideas and
feedback
for future development. Discuss each new idea with your customers in an easy to use feedback forum. Do you know what are the most important features for your customers? Let them vote! Clearly communicate the progress of implementation with your customers.
LiveAgent
can help you set up a Feedback and Suggestions page in a few steps.
Feedback suggestion category Setup
Step 1: Navigate to Customer portal > Feedback and suggestions and click on Cre ate.
Step 2: In the next screen, you may choose a category from the list of existing categories under which the new suggestion category will be placed. Select a name for your suggestion category, choose a department that will handle the received suggestions, and add any additional keywords or details. Click Save once you are done.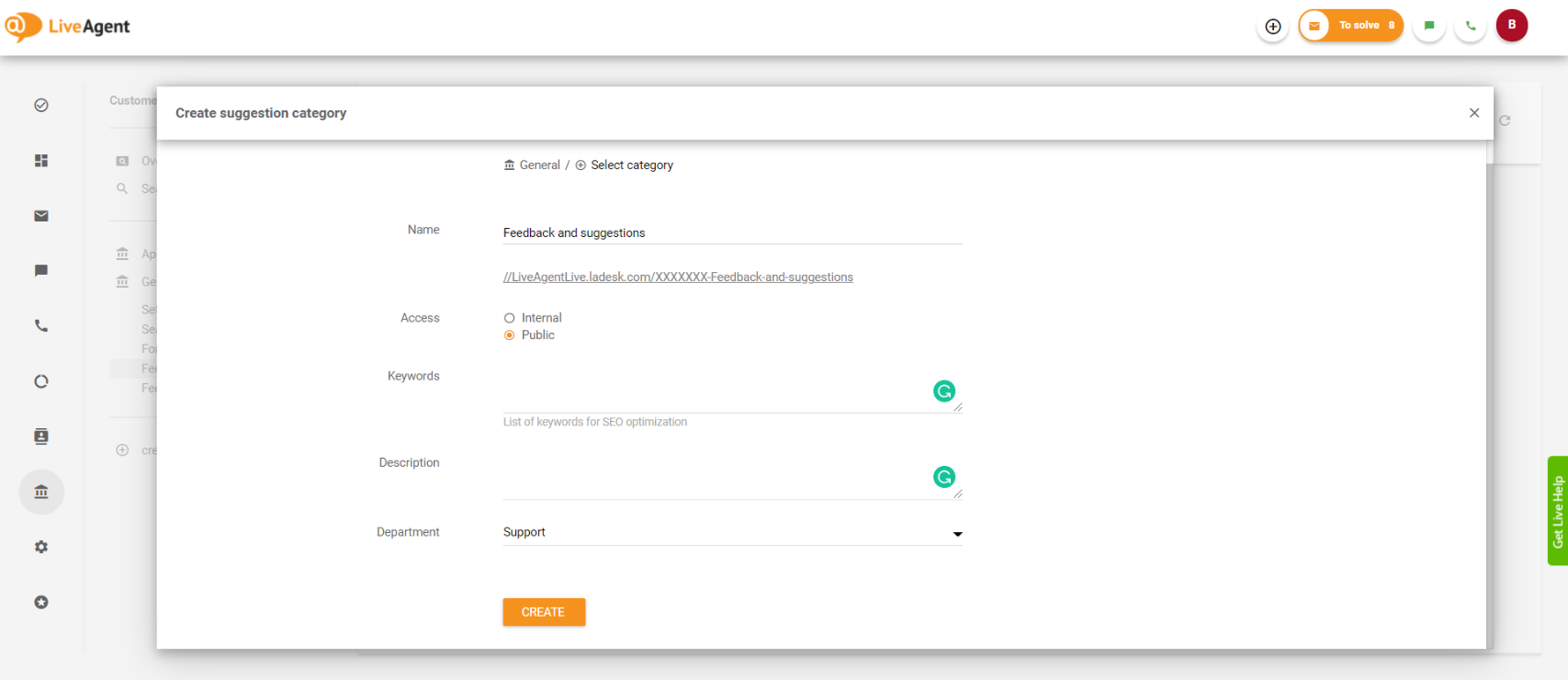 How to create a suggestion
You (and your agents) may create a suggestion directly from the agent panel by clicking the
New
button and then
clicking on
Create suggestion.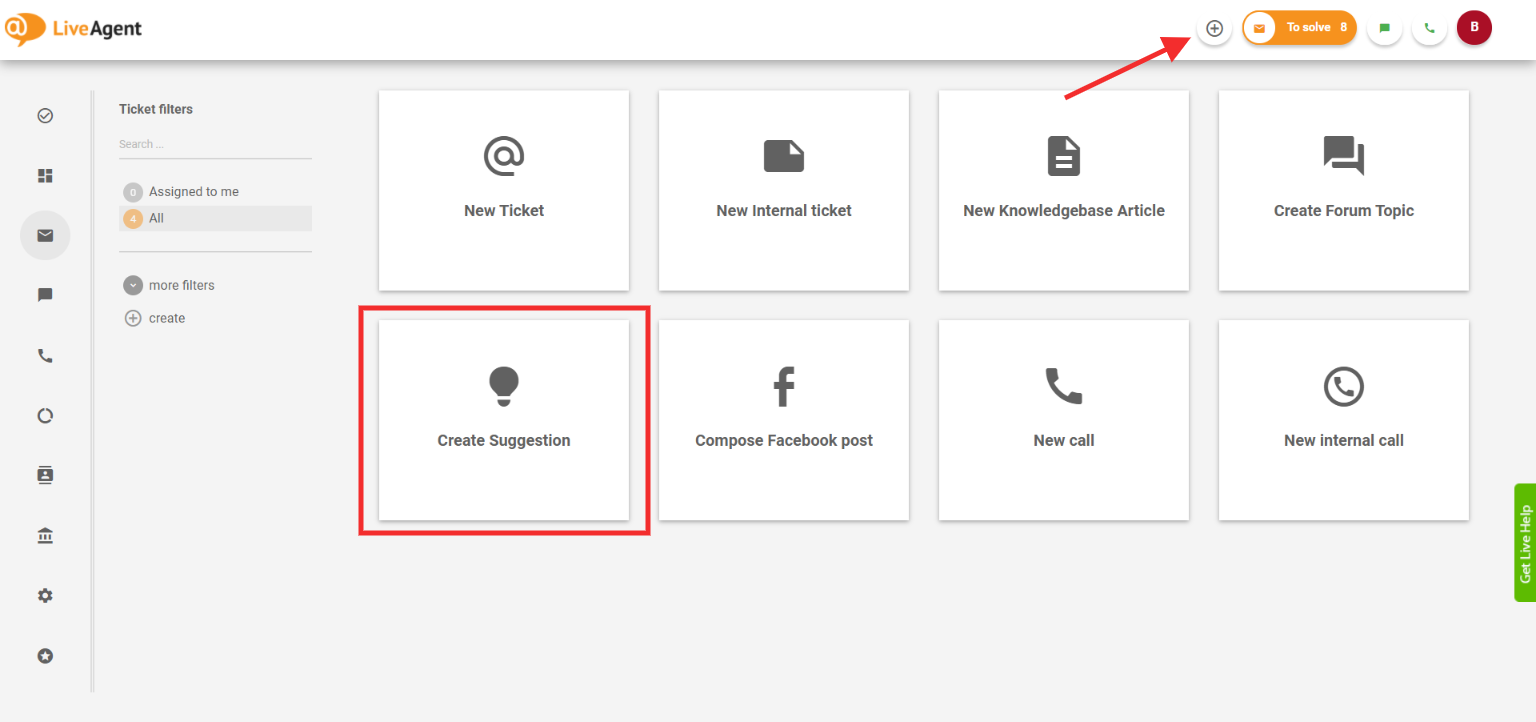 In the next screen,
choose the suggestion category under which the suggestion will be placed, name your suggestion, and provide a detailed description of your suggestion and what could be improved in the future.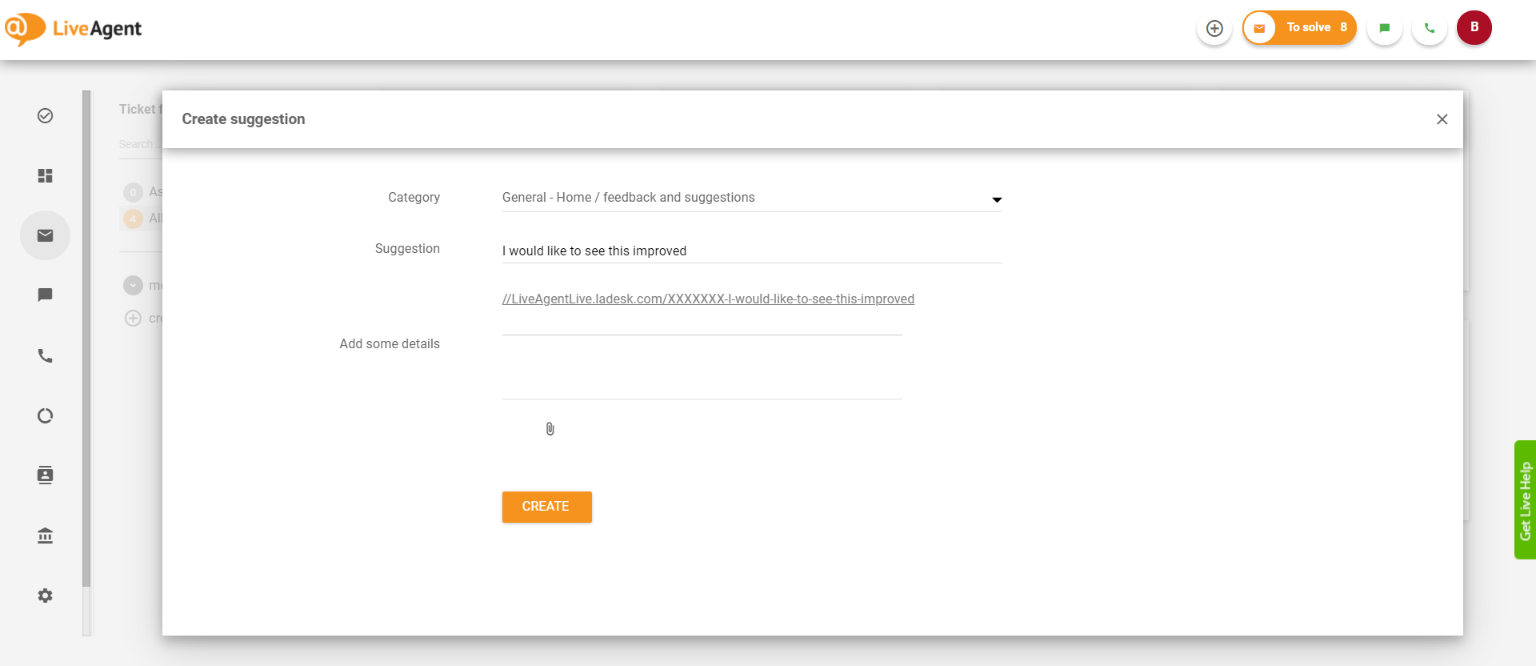 Once a suggestion is added, the customers may check it out directly in your knowledgebase and can vote for it
or add any additional comments to it.

How do the customers add new suggestions?
If the customers access the suggestion category you added, there will be an "Add new suggestion" button next to the search field by which they can add a new suggestion.
Since the "Add new suggestion" page is available only to logged-in users, the customers will either have to register an account or log in using their Facebook account.

Once the customer logs in, they will see a screen where they can create a new suggestion.

When a new suggestion is posted, it will appear among the regular
tickets
and your agents may reply to it from the agent panel.
Creating a Feedback button
Once you have a suggestion category created, you may want to give your customers an easy way to provide feedback from your website pages
. To make this super easy, you can create a Feedback button.
Step 1: Navigate to Customer portal> Feedback buttons and click on Create.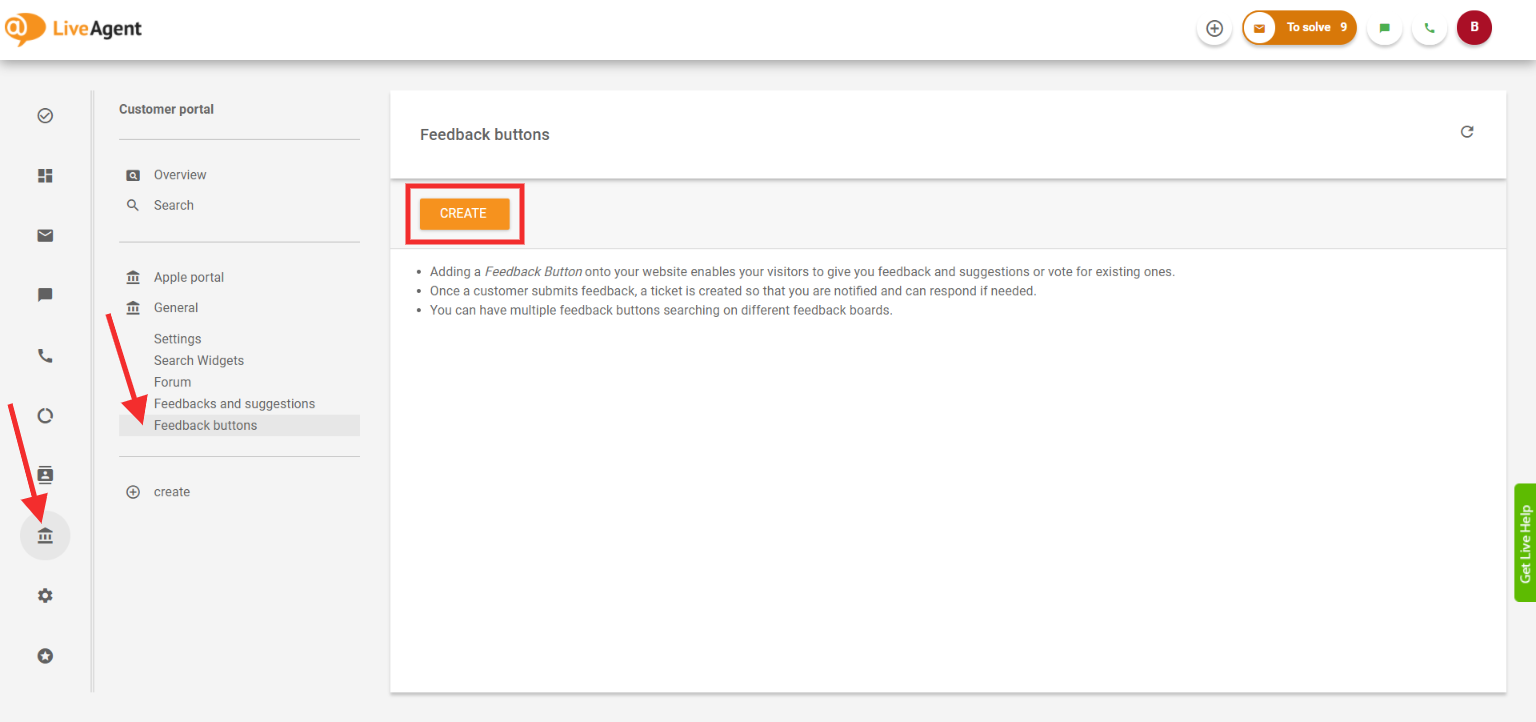 Step 2: Choose the style of your feedback button. You can choose one from our selection or you can upload or create your own. All the different styles can be easily customized.
Step 3: In the next screen, you can name your feedback button, select the suggestion category to which the button will refer, system language, and also whether you want to include and display the contact us button so that the customers can get in touch directly from the feedback button. Activate the feedback button by checking the "Active" box.
Step 4: You can now work on the customization and design of your button by going under the Button and Design sections. You can customize the color of the button, its position on the page, hover effects, widgets design, and many more aspects. Don't forget to save the button once you are happy with it.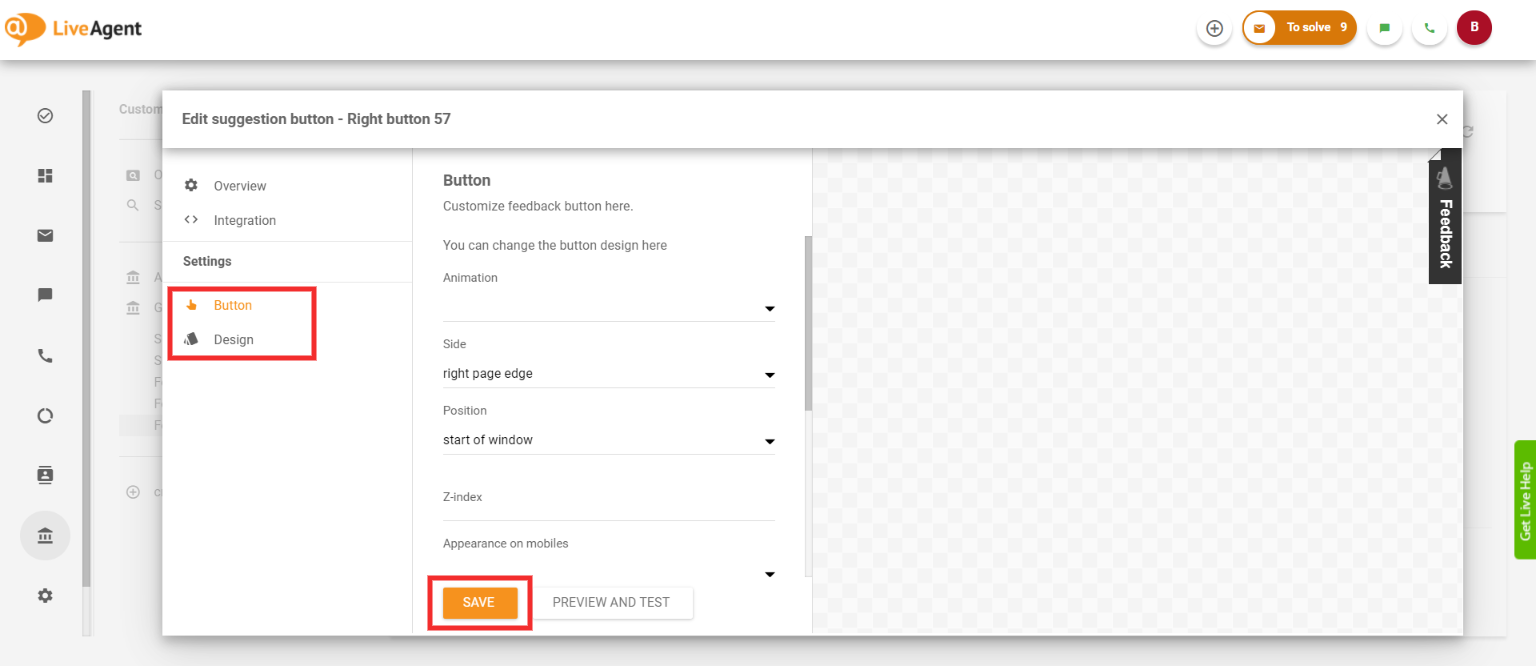 Step 5: Now navigate to the Integration section. Our system will automatically generate the integration code so you don't need to code anything yourself. Simply copy the code and place it before the </body> tag of your website to display the button.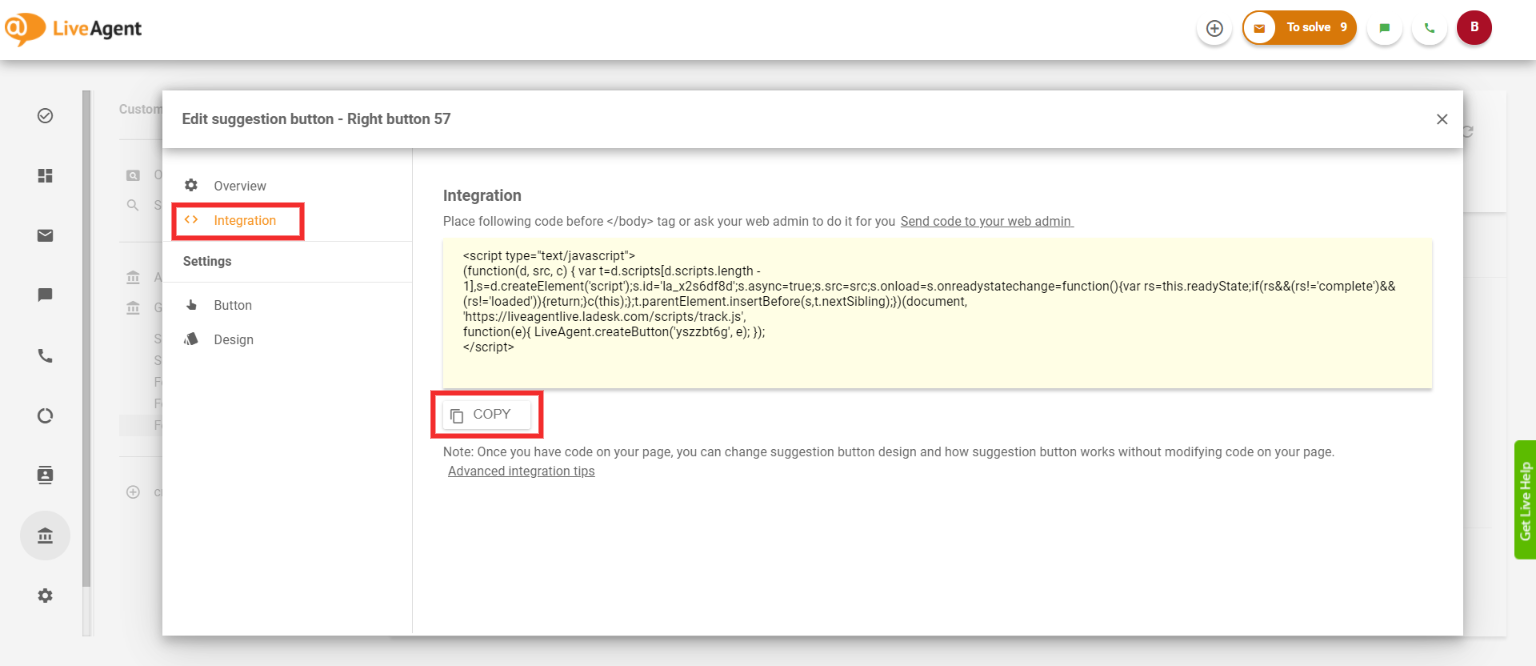 That's it! The button is now displayed on your page and you can start collecting valuable feedback and improvement ideas from your customers.