This guide applies only to cloud-hosted accounts.
To integrate Facebook on self-hosted (downloadable/standalone) licenses check
this guide
instead.
The Facebook integration allows you to connect any Facebook pages that you are an administrator of. The Facebook integration allows fetching wall posts, comments to posts, and private messages.
To integrate a Facebook page, in your LiveAgent account navigate to Configuration > Facebook > Facebook pages (or to Configuration > Facebook and Instagram > Accounts in case you have also the Instagram plugin activated) and click on the "Connect" button.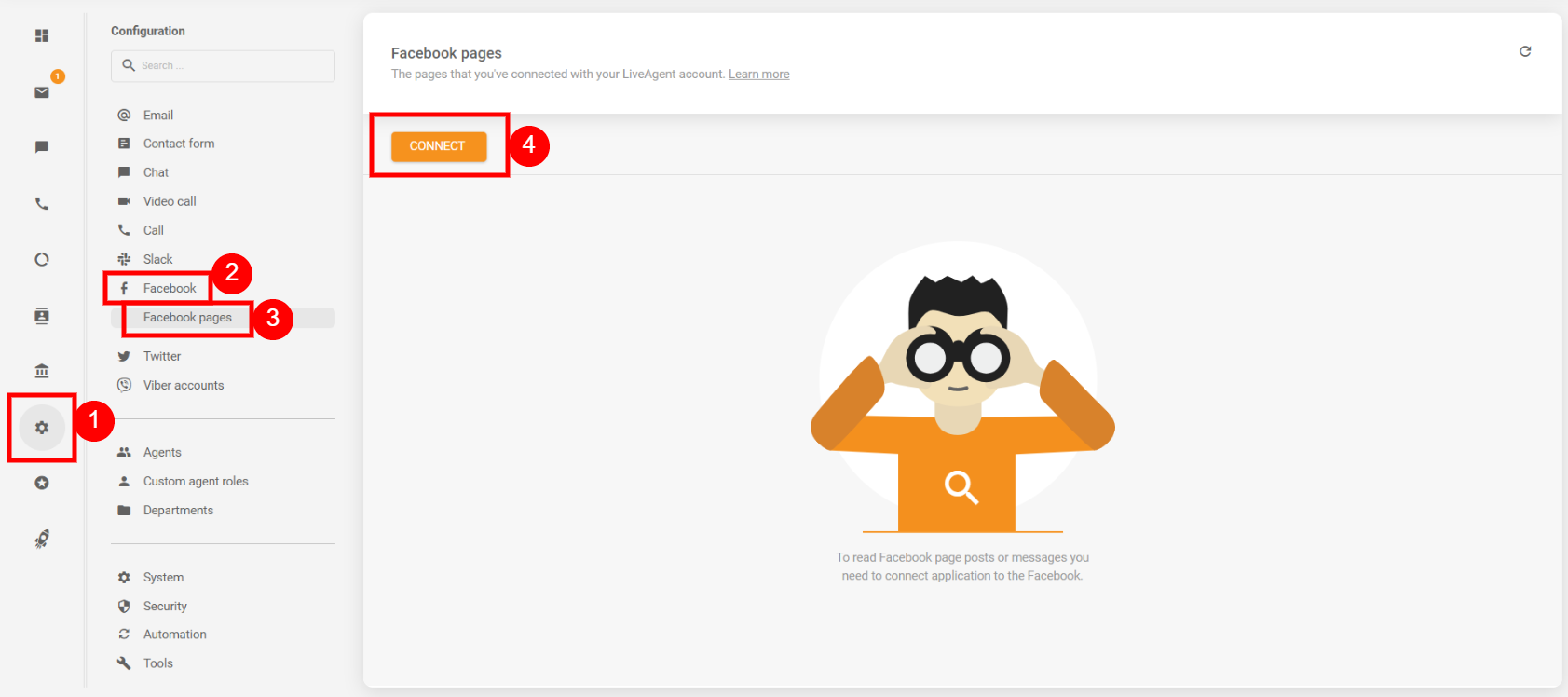 After clicking on the "Connect" button, a login/authentication window will be displayed in a new pop-up browser tab outside LiveAgent. If you are not logged into your Facebook account please log in, if you are already logged in, click on the "Continue as ..." button.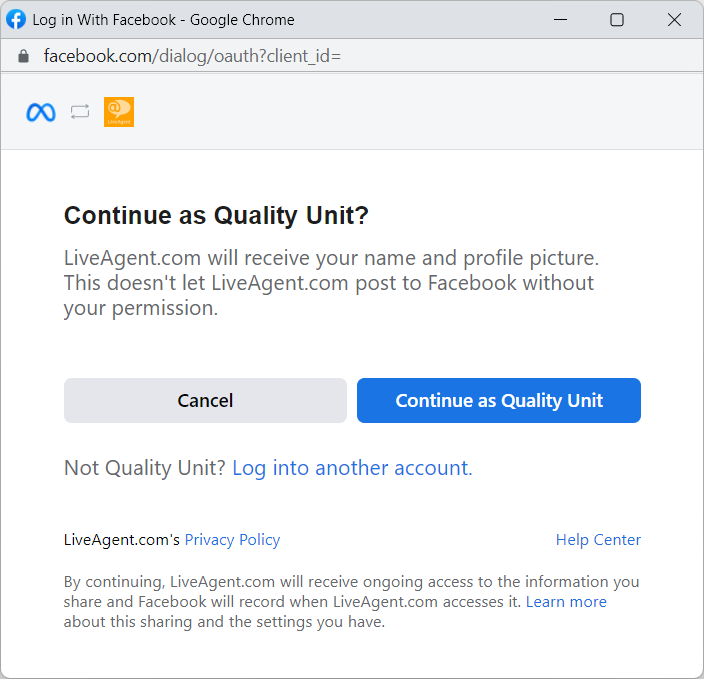 On the next screen, all Facebook pages of which you are an administrator will be displayed. Choose which Facebook pages you want to integrate with your LiveAgent account and click on the "Next" button.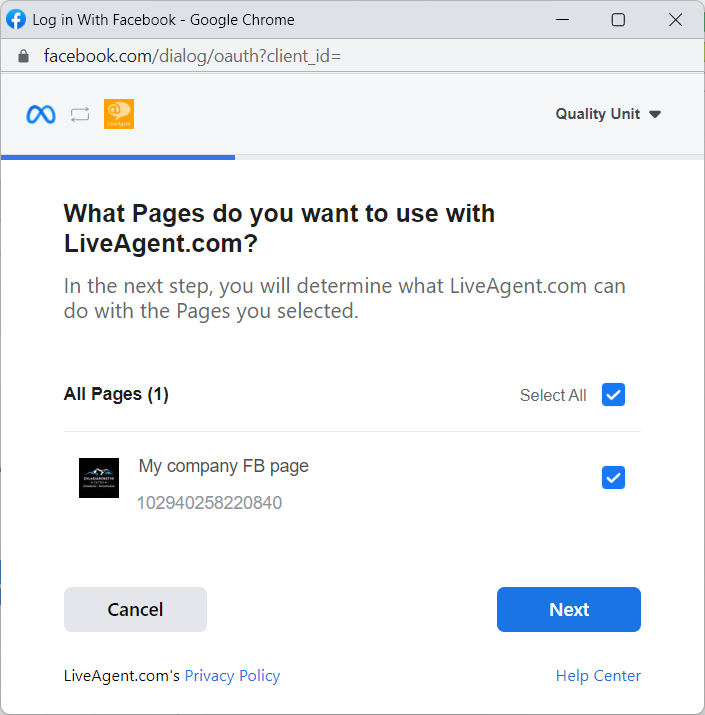 On the last screen in the pop-up window, a list of Facebook permissions is displayed. Please do not deactivate any of them to avoid issues with the integration, choosing whether you want to fetch both wall posts with their comments and/or private messages will be set up in LiveAgent directly later on. Simply confirm the permissions by clicking on the "Done" button.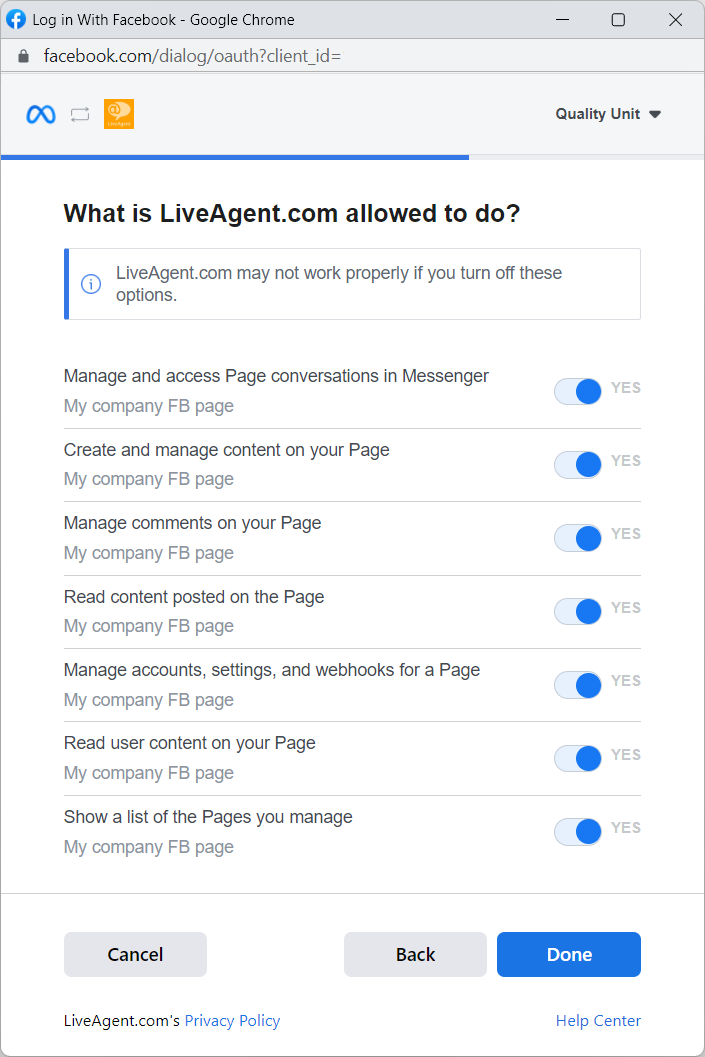 Wait for the confirmation that the integration has been successfully done and click on the "OK" button. The Facebook pop-up window will be automatically closed.
Navigate back to your LiveAgent account, a new screen to finish the integration will be displayed. Here you can choose which Facebook pages that you've integrated you want to truly connect with certain permissions. You can choose from the following options:
Fetch wall posts (fetches wall posts and their comments together)
Fetch private messages
It is possible to fetch only wall posts with their comments, fetch only private messages, or fetch everything. Chosen pages can be connected one by one, or the "Connect all" button connects all Facebook pages that were integrated in the previous steps. For each page, you can also select a specific department in which tickets will be created for the fetched wall posts/comments/private messages.