What is API key
API key is an identity of your
LiveAgent
(like your username and password) which you can use to build your own custom integration solutions. Never give it to anybody you don't trust. If your API key is lost, do not hesitate to generate a new one! Anybody with your API key can fully access your LiveAgent.
How can I get my API key
It is very simple. While logged in as an admin navigate to the following location:
Configuration> System> API and wait there a few seconds and an API key is going to be generated for you

Or in case of API v3 section - you have to click the 'Add API key' button:

When adding a new key in v3 you have an option to specifically define permissions for this key (as you can have more keys you can also give different keys to different people with different permissions).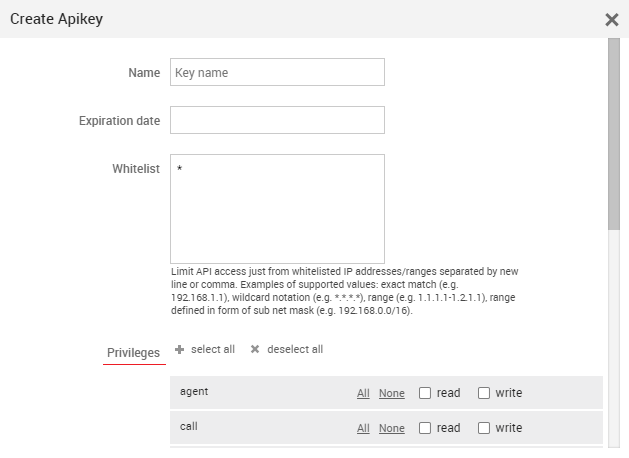 Now you should be able to copy your key to clipboard and use it in your applications.
Can I change it?
Yes you can do that in API configuration dialog. Just click on Generate new link and confirm YES.
IMPORTANT NOTE: Do not forget that when you generate a new API key for your LiveAgent ALL clients using the old key will stop working immediately!
API v3 use
Your API key has to be added to your requests as a GET parameter.
NOTE: Since version 4.65.*.* you must set the API key in header of your requests. Here's an example of cURL code in PHP:


curl_setopt($curl, CURLOPT_HTTPHEADER, array('Accept: application/json', 'apikey: 123456_YOUR_API_KEY_123456'));